HB's Responsibly Made for Kids Commitment
At HB, we are dedicated to spreading happiness amongst kids, parents and caregivers through exciting, tasty and responsibly made ice cream treats. As the first global ice cream brand to take such an initiative, our promise makes a clear commitment for our ice creams to be responsibly communicated, sold and developed.
It is our mission to offer permissible treats and empower parents and caregivers to make better choices that also bring happiness, joy and excitement to kids. We have taken great care in the design of our Responsibly made for Kids Responsible product range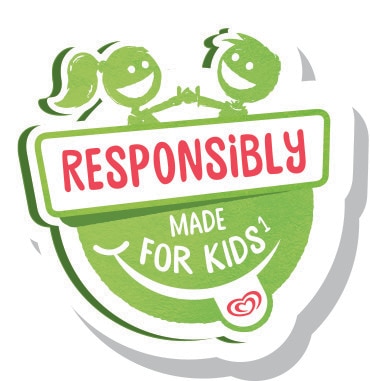 Responsibly Developed
Our delicious ice creams are responsibly developed for kids and we will continue to bring excitement with new shapes and flavours.
Every kids' ice cream will adhere to our Unilever nutritional commitments for which we have translated the WHO guidance into a Kids ice-cream portion.
This means maximum of:
110 calories
460 kilojoules
12 grams of sugar
Responsibly Communicated
In Ireland, we will never actively target under 12s in traditional media
In Ireland, we will never actively target under 13s in digital media
In Ireland, only kids over 12 or otherwise supervised by a parent and advertising Responsibly Made for Kids products are featured in our advertising.
In Ireland, we only allow gifts, toys, premiums and giveaways for kids over 6 years and when they have an educational or health purpose in combination with our Responsibly Made for Kids products.
In Ireland, Responsibly Made for Kids products will receive point-of-sale advertising with displays, cabinets and range cards.
In Ireland, cartoon characters appealing to kids will only be targeted to children over 6 years and only for Responsibly Made for Kids products.
Responsibly sold

Our ice creams are especially designed to excite and reward.
Our responsibly made for kids logo will appear on all range boards and packs to help parents and caregivers to find our products.
Look Out for It Next Time You're at the Freezer!